Free Quote
No job too big or too small, we offer free quotes anywhere in London & Surrey.
Trade Price Carpet
We offer our customers trade prices on all our carpets, what we pay you pay.
Family Run Business
Family run business with over 50 years of experience in fitting carpets.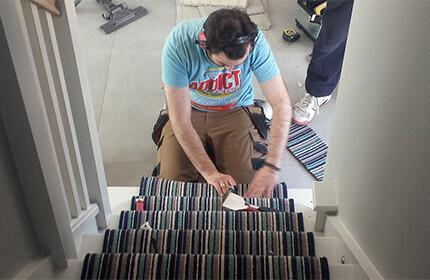 Quality Carpet Fitting & Supply in Surrey & London
B & H Carpets is an independent, family-owned business with over 50 years of experience in fitting carpets. Nick and his two sons, Ben and Harry, fit carpets around London and Surrey, and have been providing the area with quality carpets at trade prices as a family for 16 years. The friendly, family service guarantees to beat the retail prices of all carpet outlets.
Free, No Obligation Quote
Trade Price Carpets
Free Samples Delivered To Your Door
Servicing The Surrey & London Region
Extensive Collection Of Premium Carpets
Testimonials
Nick, Ben and Harry did such a good job and I am so happy with the quality of the finish. My husband came home from work and didn't recognise the place! They were very friendly and professional and I would definitely recommend them to anyone looking to get a new carpet. My friend told me about the excellent job they did for her and they delivered exactly the service I was expecting.

The Holmes did such a good job of my flat in London that I decided to use them again for my house in Surrey. My wife and I were delighted. It's so nice having a family come round to the house as there is an immediate trust, which money just can't buy!

I have used John Lewis for carpets my whole life - that is until I met Nick. He was so charming and guaranteed to me that he could beat their quote. And he did. He came straight to my house and measured up and sourced the exact same carpet at a much cheaper price. The money I saved has now gone towards the family holiday this summer!

The service was first class. They took their time and made sure to ask if I wanted carpets in the cupboards, and where exactly I wanted the carpets to join. I was also very impressed with the finished product and the favourable price. Holmes and Sons managed to beat all my previous quotes.

Nick, Ben and Harry not only did a sterling job of fitting the carpet throughout the whole of my house, they also provide a professional service. My wife was very complimentary and we would most certainly recommend them to any of our friends.

Nick and his two sons Harry and Ben did a fantastic job carpeting our stairs and downstairs living room. They all worked very professionally and were polite and helpful in assisting us with any queries we had. The entire job was completed to an exceptionally high standard and in just one morning. They even managed to beat the cost we were originally quoted from one of the larger retailers which was a bonus. A thoroughly efficient family run business! Would recommend and use again.
Need your carpet fitted? Call 07794 671094